THE INTERNETS TOP RATED BABY BACKPACK OF 2022
Our 4-IN-1 Baby Backpack is exclusively designed for mothers that are on the go non-stop, it is water proof and easy to clean and has multiple purposes. Can be used as a diaper bag, baby bed, nursing bag, changing station, shopping bag or a travel bag. It includes a USB charging port, thermal insulation and has a large capacity.
Our diaper bag is designed to always consider the customers needs. Made with premium quality materials, completely innovative and functional design, this diaper bag does it all! Stores all of your baby's essentials safely and securely.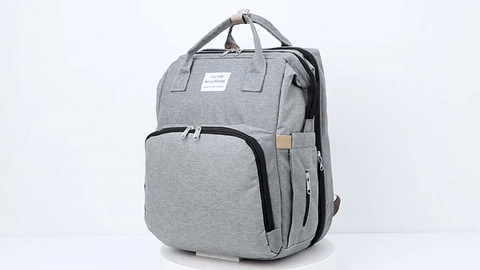 PRODUCT BENEFITS:
FOLDABLE CRIB - Our bag can easily transforms the backpack to a travel bassinet and just need 1 minute to create a warm, exclusive game and sleeping space for baby.
LARGE CAPACITY - Our diaper bag has 13 pockets for diapers, changing station, milk powder, clothes, bottles, etc. Main compartment has 4 elastic pockets, 1 zipper pocket and 1 zipper waterproof pocket where you can put wet towel or clothes you want to keep dry or wet.

LIGHT WEIGHT - Our backpack is extremely light weight for on the go convenience, it only weights 1 kg.
WATER RESISTANT MATERIAL - Lined with a waterproof material, easily wipe away any spills or mishaps and conveniently store any wet clothes or diapers.

INSULATED POCKETS - High-density insulated pockets help maintain bottle temperature over time. Great for when you're on the go and won't have access to a bottle warmer.

MULTI-FUNCTION - Use as diaper bag, baby bed, mommy backpack, nurse bag, shopping bag, changing station or travel backpack. Constructed with the ultimate balance of style and functionality, our maternity bags are ready for anything.

SPECIFICATIONS - Suitable for babies up from 1 month - 1 year old, depends on your baby's growth pace.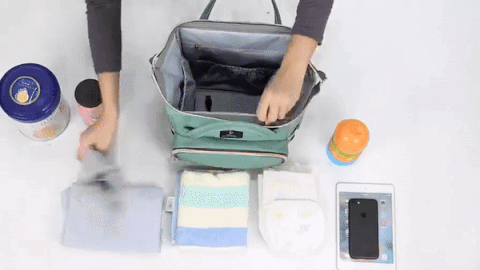 SIZING CHART:
Package Includes:
Available Online Only. We Ship Worldwide!
**Update: As of now, we are extremely low on stock due to increased social media attention. This product is selling extremely fast and we are estimating to be out of stock very shortly. Click the blue ADD TO CART button at the top of the page before we sell out.
Frequently Asked Questions:
Question: Is there a mattress in the backpack?
Answer: Yes. The device comes with a soft and comfortable mattress for the baby to lie on.
Question: How big is the crib backpack?
Answer: The exact dimensions of the crib backpack are 30cm long, 18cm wide and 42cm high.
Question: Can the crib be used as a play area?
Answer: Yes. The crib can be used as a play area for your baby. You can also use it as a crib to sleep in.
Question: What is the milk bag made of?
Answer: The bottle pockets are insulated with aluminum foil to keep them warm.
Question: Can you charge your phone/tablet with this backpack?
Answer: Yes! There's a built-in USB charging port inside the backpack for your every need in the digital world.