Australia's #1 Most Effective & Flexible Toilet Brush
Does your toilet get left with yellow deposits under the rim and in hard to reach corners?
Are you tired of the brush holder filling with old, dirty water?
Our extremely popular silicone toilet brush gets all the way into the hard to reach corners, including under the rim.  It doesn't rust over time or fall apart. It doesn't scratch the bowl & designed so water isn't trapped in the bristles, so doesn't create a pool of water in its holder. It is the perfect solution to keeping germs and bacteria not left to grow.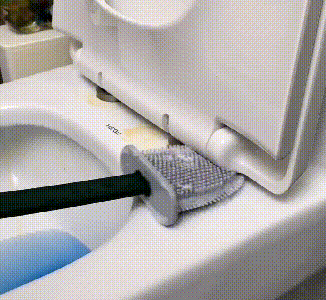 Benefits Of The Most Flexible Silicone Toilet Brush
✔ SMART DESIGN - Created with silicone for flexibility to get to those hard to reach places and won't rust over time.
✔ EFFECTIVE RESULTS - No more difficulty getting under the toilet bowl or in the corners. Removing stuck particles with out hassle.
✔ MODERN DESIGN - Lets face it, décor matters. This design suits any bathroom space.
✔ HYGENIC - Easy to clean, with a simple rinse that doesn't leave residue or unwanted odor, or leave a pool of old, dirty water in its holder.
✔ SPACE EFFICENT - Can be fitted on the bathroom wall next to the toilet. Off the floor and out of the way.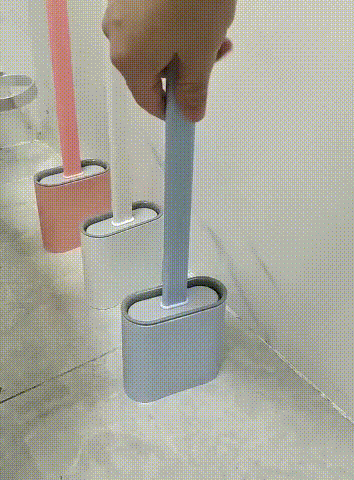 Trusted By Australians Everywhere
The Silicone Toilet Brush is designed to be incredibly durable and flexible to keep longevity. It has been designed to not wear out or change shape over time which makes a worth while investment for every bathroom in the house. It has also been designed to match modern décor to keep your home in style.
A More Hygienic Approach
Its flexibility and silicone material makes getting those nuisance stuck bits off the bowl in a breeze.  Not trapping water in the brush or fulling its holder with old, dirty water for days allowing bacteria to grow. Making cleaning the toilet, that much easier!
Package Includes
1x Flexible Silicone Toilet Brush
1x Detachable Ventilated Brush Holder
1x Wall Mount
NB: Can Be Mounted To The Wall or Placed On The Floor
Color Choice: White, Black, Grey, Pink, Blue, Green
Feel Safe With A 14 Day Money Back Guarantee!
"We know you'll love our Flexible Silicone Toilet Brush as much as we do. In fact, if for any reason you're not completely satisfied, you can return your Flexible Silicone Toilet Brush within 14 days and we'll issue a refund. T&Cs applied."